I am currently doing a weight training/body building program at home [Body Beast by Beachbody]. The program includes a meal plan/nutrition guide geared for proper mass building. Per the calculations in the guide, I calculated out at 2,800 calories per day to eat during the build/bulk stage, with a 50/25/25 Carb(Starch)/Protein/Fat breakdown. I do not follow the meal plan, but instead track my progress on MyFitnessPal and use the programs food guide to pick from in addition to my accumulated knowledge on healthy foods.
Tonight I went out food shopping and came across a 3-pack of thin sliced NY Strip Steaks (4 oz. each). I wasn't thinking about dinner until I saw the steak, and then proceeded to add some dinner shopping to the general list. When the dust settled, the following was my Sunday dinner I prepared for myself:
A salad (approximately 2 cups raw) – mixed lettuce, green pepper, cucumber, onion, tomatoes, 2 tbsp. Bolthouse Farms Caesar Parmigiano dressing

4 oz. NY strip (fresh), marinated for 20 minutes in Worcestershire Sauce, onion powder, pepper, minced garlic
13.7 oz. sweet potato cut into wedges, sprayed with approximately 1/2 tsp. olive oil, added parsley and pepper
4.6 oz. pencil asparagus
Prep time was around 25 minutes (while watching football):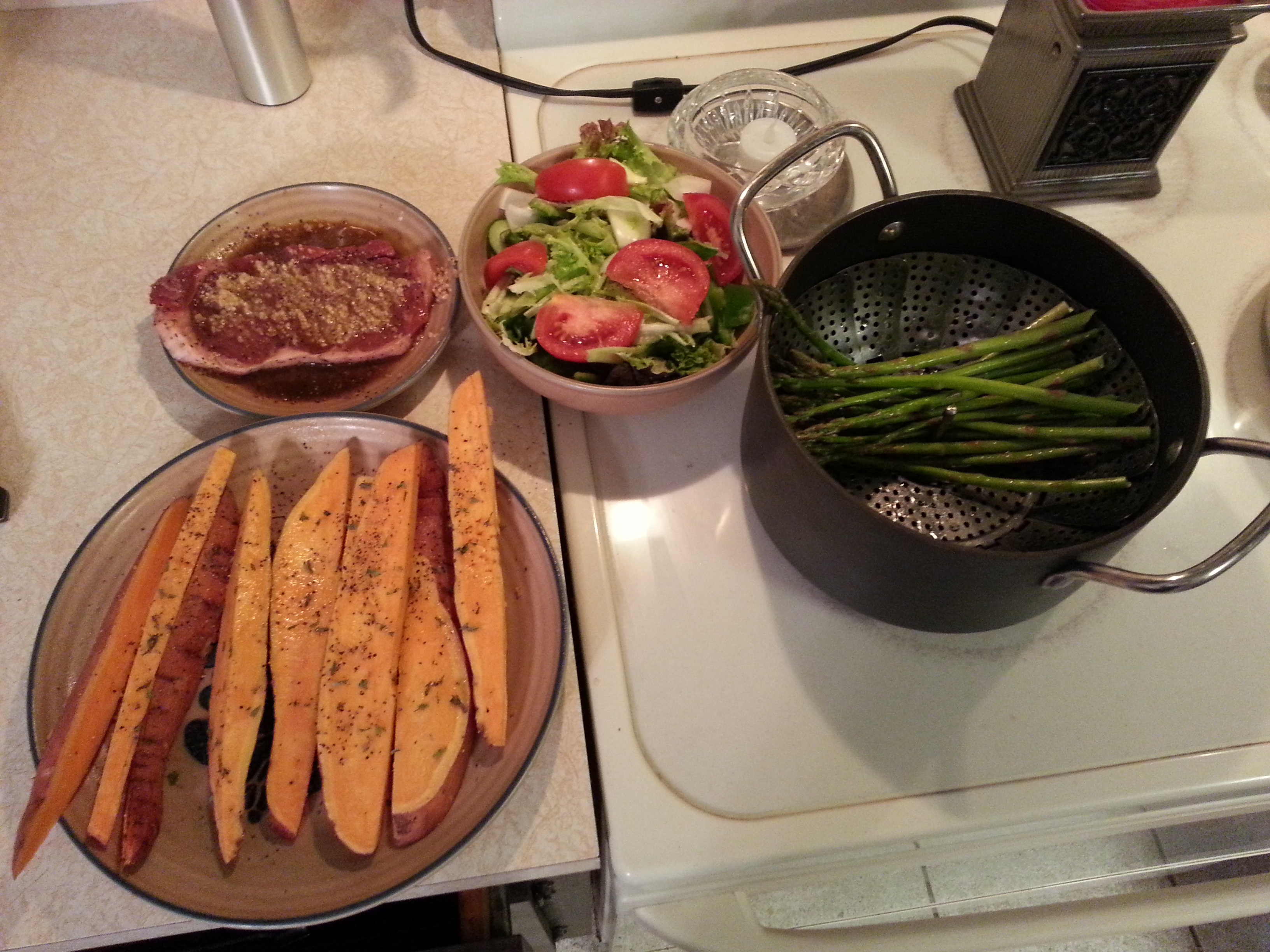 Next – heat up the grill for the meat and potatoes! I put on the sweet potatoes first, and flipped them a few times over a 5-minute period before adding the steak to the grill. I steamed the asparagus with a few sprays of olive oil.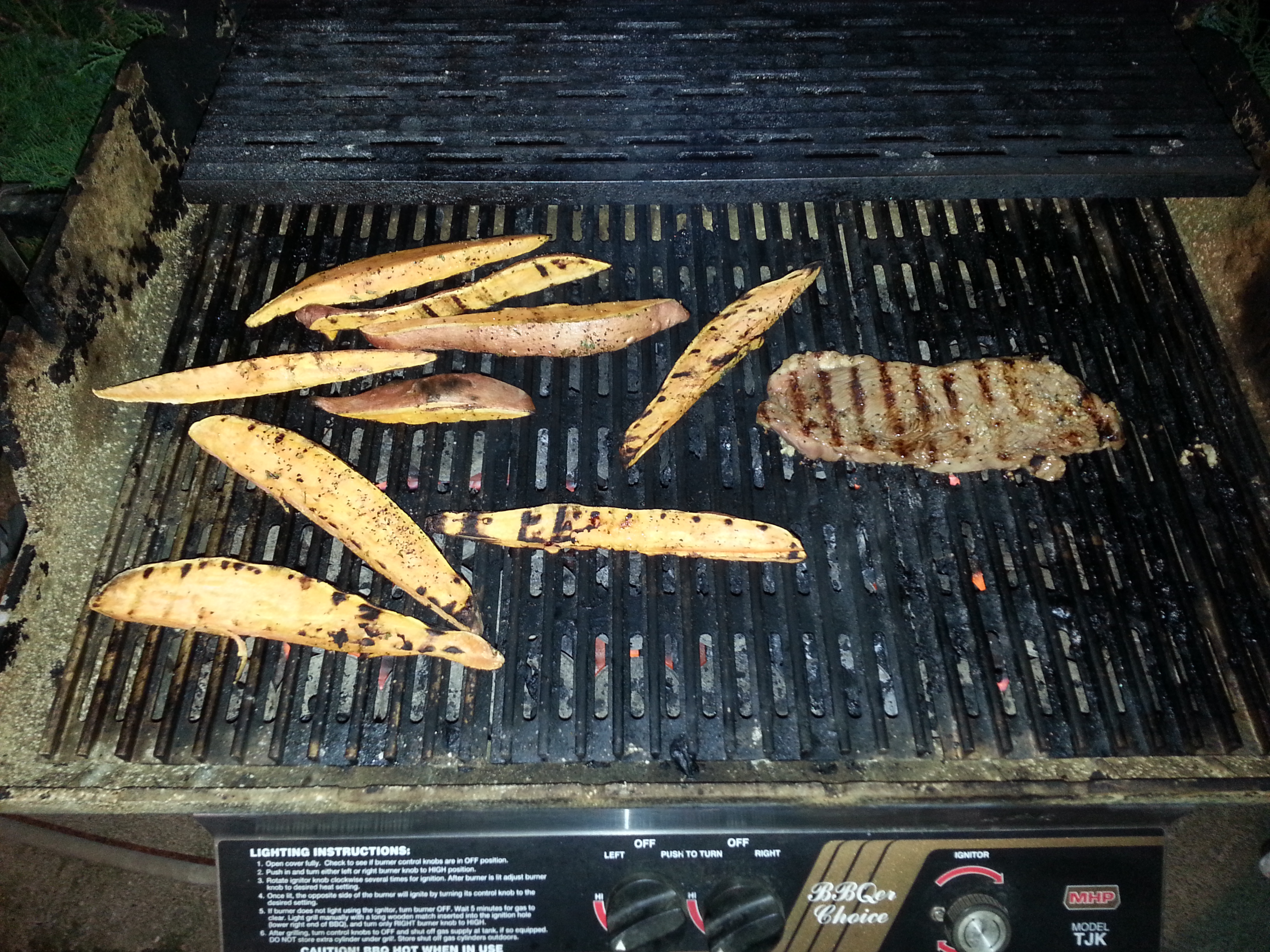 Once the steak hit the grill, everything was ready in around 5 minutes. I put all the food on the plate, and had a very enjoyable dinner along with a glass of water (going alcohol free for the duration of Body Beast).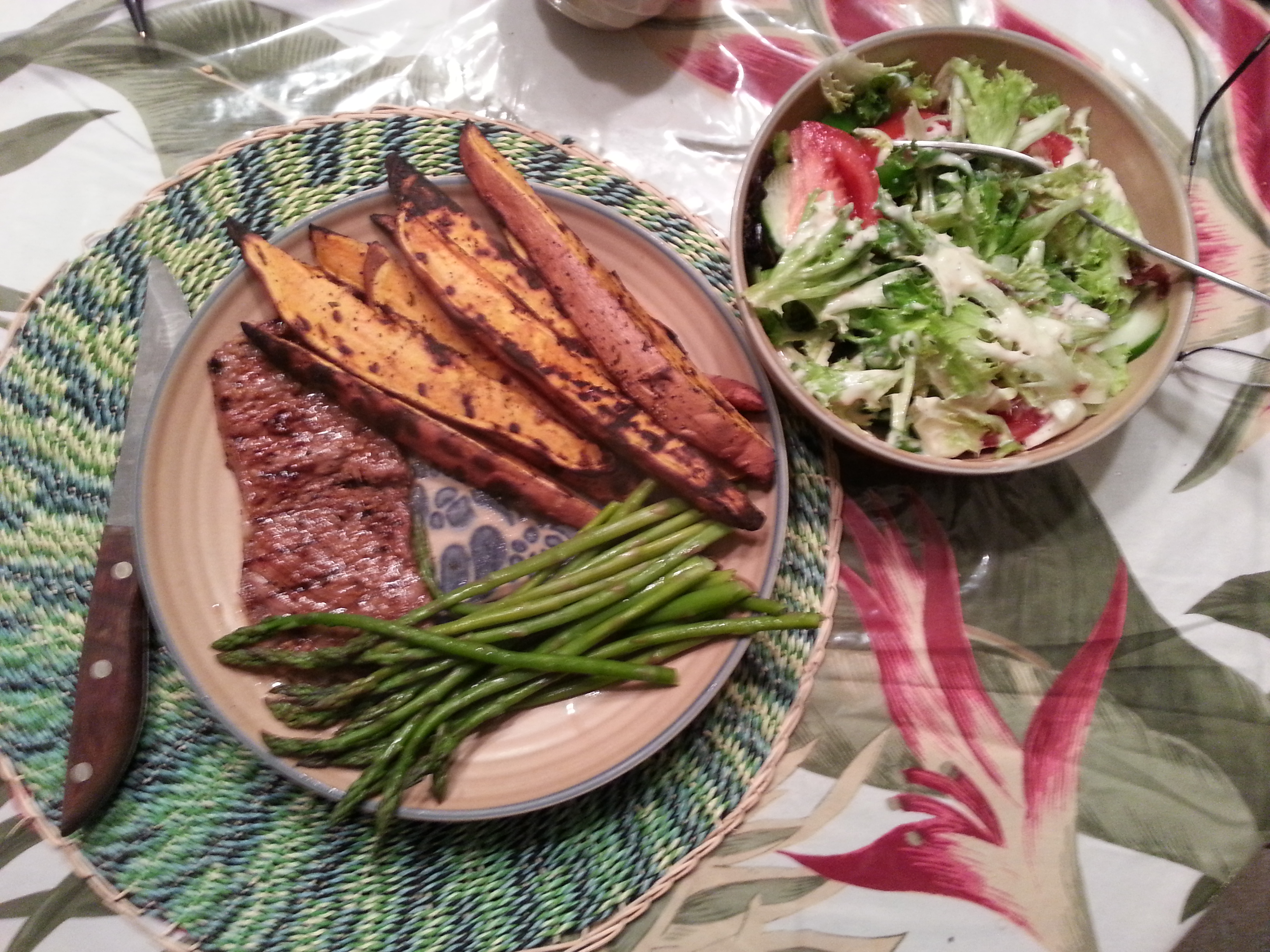 The sweet potato was large and I contemplated eating half of it, but once I dug in, I decided I needed the full nutritional breakdown of the meal to fulfill my daily requirement. To get the best possible results from a body building program, it's imperative that you fuel your body properly for the best results, those results being the best your body can do.
Nutritional Data Per MyFitnessPal:
717 calories; 22g fat; 100g carbs; 36g protein; 8g sat fat; 25g sugar
I did the best I could loading the proper information into MyFitnessPal.