I enjoy grilling, and I do it year round. I use a gas grill, and have not used charcoal for a long time (mostly due to clean up and ease of use – call me lazy 🙂 ). I'm not the most sophisticated cook, but even with my simpleton ways I am fairly happy with how my meals come out. Tonight's dinner was made entirely on the grill, and from prep time to table took less than 1/2 hour.
The main dish was thick cut center cut pork chops. I find the thicker chops don't dry out as much, and once you sear them they stay juicy. I used a little bit of Worcestershire sauce, some pepper and onion powder, topped with  2 tablespoons of sweet & sour sauce from my local Chinese restaurant. I cut up one very large sweet potato into wedges, sprayed with some olive oil, and lightly seasoned them with pepper and onion powder before grilling for 5+ minutes (no prepping – just put raw wedges onto the grill). The veggies, which were squash & zucchini, were grilled for slightly less time than the potatoes (I bought them already cut up at a farm stand which also included fresh basil, but it would take a couple of minutes to cut up your own). I also sprayed them with a little olive oil.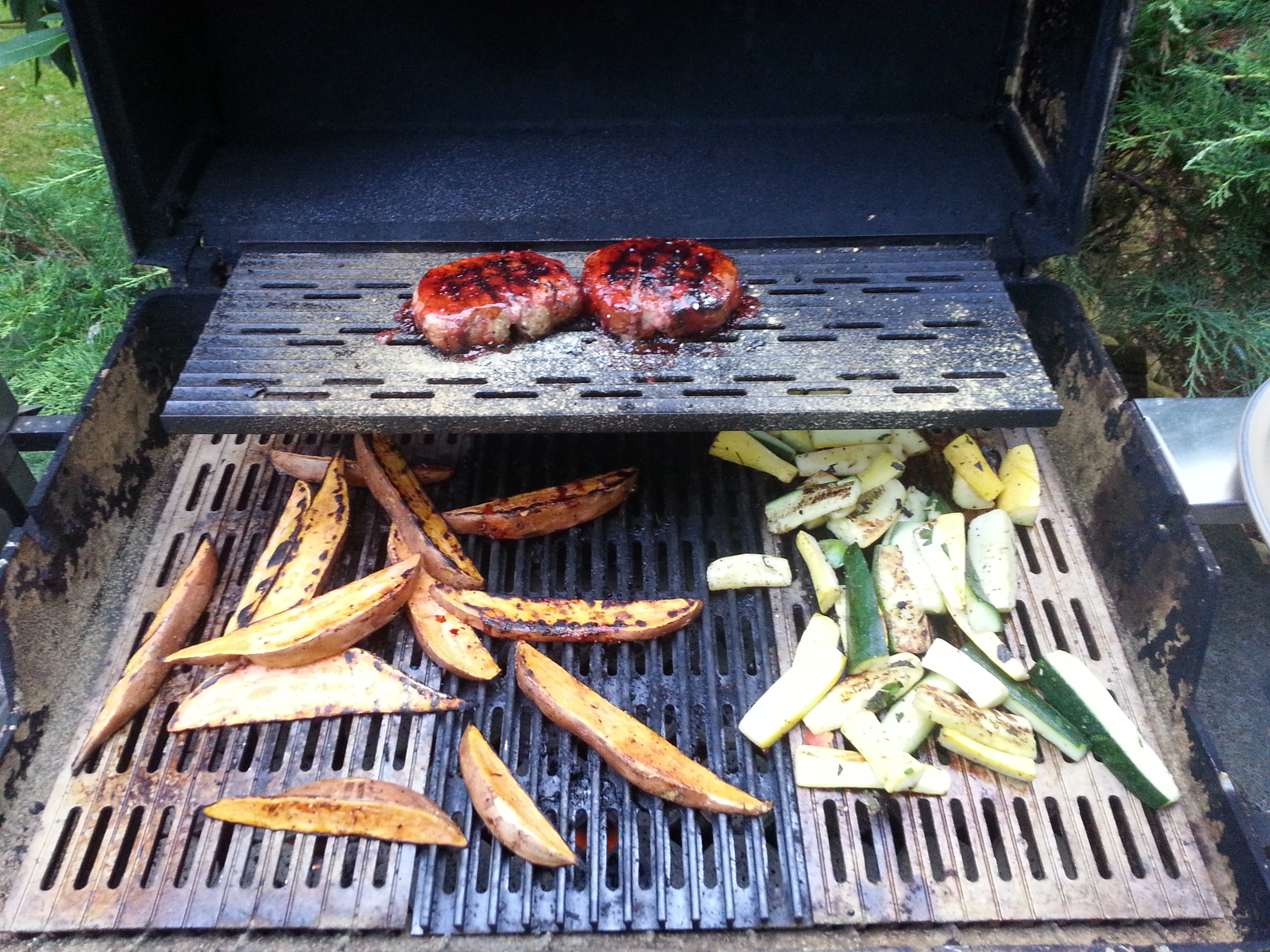 In addition to pork chops the grill is great for fish, chicken, and of course steak. You can grill corn on the cob and many other veggies too. I personally choose not to eat some of the "staple" foods that end up on a grill just because I've taken them out of my "foods that I eat" list – for instance hamburgers, hot dogs, and sausage. Yes, there are compromises when you choose to eat healthy, and although I used to love those foods I've learned to live without them.
Use your imagination. The grill produces some very flavorful dishes, as the grilling alone adds an extra flavor on top of what ever seasonings and other toppings you use, more so than the oven or stove. If you don't have access to a grill, there are pans that simulate grilling. I've used those with success also. A healthy grilled meal is a very satisfying one.